DUAC Draft On Building Bylaws Ready – The Indian Express – 23-Dec-2014
December 27, 2014 - Uncategorized
The Delhi Urban Arts Commission (DUAC) has readied its draft on the Unified Building By-Laws (UBBL), which will be submitted before the Ministry of Urban Development in the next two days.
The revision in the laws is the first such, approximately 30 years after they were first conceived for the national capital.
Speaking to Newsline, PSN Rao, DUAC chairman, said, "The draft is ready and will be submitted to the Ministry of Urban Development by tomorrow or day after. A nine-member core group committee had reviewed the suggestions. Being a technical body, we have tried to incorporate all suggestions to the laws for the benefit of the people. It is for the ministry to take it forward from here."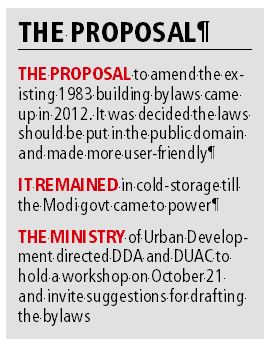 Sources said while core group meetings were being held on a daily basis, eight different meetings were held with various stakeholders and the new laws drafted.
The idea to amend the existing 1983 building by-laws came up in 2012 when it was decided that the laws should be put out in the public domain and made more user-friendly and understandable to the public.
While the issue was deliberated upon, the idea remained untouched till the advent of the new Modi government following which the issue was fast-tracked.
Following this, the Ministry of Urban Development directed the Delhi Development Authority and DUAC to hold a workshop on October 21 and invite suggestions for drafting the by-laws.
The session was attended by the public as well as officials of the CPWD and DDA apart from architects and builders.
Directions were also issued to the two agencies to invite suggestions on their websites.
The first advisory stakeholders' meeting was held on November 26 where representatives of various government departments and individuals participated to finalise a draft on the building laws.
Stakeholders from the municipal corporations, NDMC, National Monuments Authority, the association of engineers and architects participated in the meetings.
Following this, on November 28, the DUAC, in a presentation before the L-G, presented its progress on the formulation of the draft wherein suggestions to include a whole new chapter just on green buildings and on provision of facilities like sanitation facilities for children and the elderly were made.
Sources said these suggestions have been incorporated in the final draft that will be presented to the ministry.